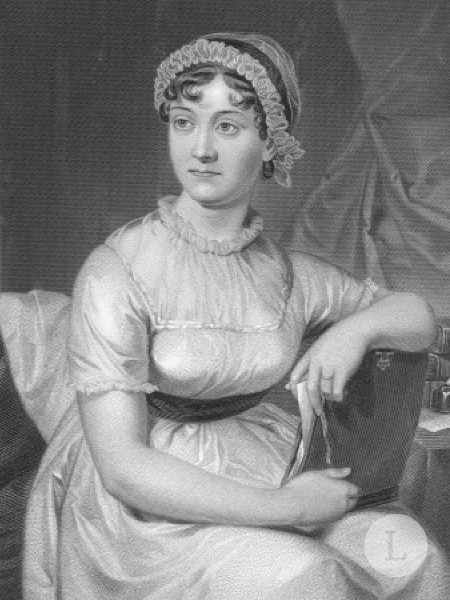 born: DECEMBER 16, 1775
died: JULY 18, 1817
nationality: ENGLISH
movement: ROMANTICISM
Jane Austen was a prolific and influential English novelist, who is best known for her six major novels. These novels are widely celebrated for their wit, social observation, and exploration of the human experience. Born in the small village of Steventon, Hampshire, Austen's early life shaped her writing, providing a rich source of inspiration for her novels.
EARLY LIFE AND FAMILY BACKGROUND
Jane Austen was born on December 16, 1775, the seventh child of Reverend George Austen and Cassandra Leigh Austen. She was raised in a close-knit family with six siblings: James, George, Edward, Henry, Cassandra, and Charles. Jane was particularly close to her elder sister, Cassandra, who remained her confidante throughout her life.
Austen's parents encouraged her education and creativity. Her father, an Oxford-educated clergyman, provided her and her siblings with a comprehensive education. Her mother was a keen writer of stories and verses, which likely influenced Jane's interest in literature.
WRITING CAREER AND LITERARY STYLE
Jane Austen began writing at a young age, initially for her family's amusement. Her early works, known as the Juvenilia, consisted of short stories, poems, and plays. It wasn't until her twenties that Austen began writing novels, refining her unique literary style that combined satire, irony, and a deep understanding of human nature.
Austen's novels are characterized by their strong heroines, intricate plots, and biting social commentary. Her keen observations of the societal norms of her time were woven into her novels, providing readers with a vivid picture of life in the late 18th and early 19th centuries.
TOP 10 BOOKS BY JANE AUSTEN
Arguably Austen's most famous novel, Pride and Prejudice tells the story of Elizabeth Bennet and Mr. Darcy as they navigate societal expectations and their own prejudices to ultimately find love.
Sense and Sensibility (1811)
Austen's first published novel, Sense and Sensibility follows the lives of the Dashwood sisters, Elinor and Marianne, as they cope with love, loss, and societal expectations.
Emma (1815)
The novel follows the life of Emma Woodhouse, a wealthy and intelligent young woman who takes on the role of matchmaker, often with disastrous results.
Fanny Price, a shy and virtuous young woman, is sent to live with her wealthy relatives at Mansfield Park, where she must navigate a complex web of relationships and moral dilemmas.
Persuasion (1817)
Published posthumously, Persuasion tells the story of Anne Elliot, who is persuaded to break off her engagement to a naval officer, only to be confronted with the consequences of her decision years later.
Northanger Abbey (1817)
Also published posthumously, Northanger Abbey is a satirical take on the popular Gothic novels of the time, following the misadventures of the naive and imaginative Catherine Morland.
Lady Susan (1871)
This epistolary novel tells the story of the manipulative and flirtatious Lady Susan Vernon, who seeks advantageous marriages for herself and her daughter.
The Watsons (unfinished)
This unfinished novel centers around Emma Watson, a young woman who returns to her family after being raised by a wealthy aunt. As she navigates her way through the complex world of courtship and societal expectations, the novel explores themes of family, social class, and morality.
Sanditon (unfinished)
Austen's final, unfinished work, Sanditon is set in a fictional seaside resort town and follows the lives of its inhabitants as they deal with the changes brought about by tourism and modernity.
One of Austen's early works, written when she was just 14, Love and Friendship is a parody of sentimental novels and follows the escapades of the flighty Laura and her friend Isabel.
INTERESTING FACTS FROM JANE AUSTEN'S LIFE
Jane Austen's Writing was a Family Secret: Although her family was aware of her writing, Austen published her novels anonymously. It wasn't until after her death that her brother Henry revealed her identity as the author of her books.
Jane Austen was an Accomplished Pianist: Austen was a skilled pianist and enjoyed playing music for her family. Music played a significant role in her life and often featured in her novels.
Austen's Novels were Well-received during her Lifetime: While she wasn't as famous as she is today, Austen's novels garnered a number of positive reviews and were read by influential figures, including the Prince Regent (later King George IV), who was a fan of her work.
Jane Austen Never Married: Although she had several romantic interests, Austen never married. Some speculate that her close relationship with her sister Cassandra may have contributed to her decision to remain single.
Austen's Early Death Remains a Mystery: Jane Austen died at the age of 41. The exact cause of her death is still unknown, but some theories suggest she may have suffered from Addison's disease, Hodgkin's lymphoma, or even arsenic poisoning.
Jane Austen's remarkable life and literary contributions continue to captivate readers and scholars alike. Her keen observations of human nature, biting wit, and timeless storytelling have cemented her place as one of the most celebrated and influential authors in English literature.
JANE AUSTEN'S DEATH AND TIMELESS LEGACY
Jane Austen passed away on July 18, 1817, at the young age of 41 in Winchester, Hampshire. The exact cause of her death remains a mystery, but her literary legacy has lived on, transcending time and captivating readers for over two centuries.
Austen's keen observations of society, her wit, and her ability to create complex, relatable characters have made her novels timeless classics. Her works, including Pride and Prejudice, Emma, and Sense and Sensibility, continue to be widely read, studied, and adapted into various forms of media, including film, television, and theater.
In the years since her death, Jane Austen's influence on literature has only grown stronger. She has inspired generations of authors who have been captivated by her unique storytelling and her insight into human nature. Her novels have been the subject of extensive literary analysis and have played a pivotal role in shaping the development of the English novel.
Jane Austen's enduring popularity has also led to a dedicated fan base, known as Janeites, who celebrate her life and works through societies, conferences, and various events around the world.
As we reflect on Jane Austen's life and contributions to literature, it is evident that her impact on the literary world is immeasurable. Her timeless stories and compelling characters will continue to resonate with readers for generations to come, ensuring that her legacy remains an integral part of our cultural heritage.
---