The Man Behind the Bird in Literature
On the occasion of his 120th birthday, we honor George Orwell, a man whose dedication to his craft, despite personal hardship and societal turbulence, birthed novels that serve as harbingers of human resilience, warnings against unchecked power, and beacons for free thought and speech. His works continue to inspire, enlighten, and caution us, reinforcing the importance of dissent and the power of the human spirit. Orwell, the bird in literature, continues to soar, reminding us that "In a time of deceit telling the truth is a revolutionary act."
On June 25th, 1903, in Motihari, Bengal, Eric Arthur Blair was born to Richard Walmesley Blair, a civil servant at the Opium Department of the Indian Civil Service, and his wife Ida Mabel Limouzin. The literary world (and beyond) recognizes him by his pen name – George Orwell.
THE LEGACY OF A PROLIFIC WRITER
The scope of Orwell's literary, essayistic, and critical work, created during his relatively short life, is astoundingly extensive. His life was filled with historical events from the dramatic first half of the 20th century, constant struggles with fragile health, and personal tribulations. Yet, these challenges did not deter him from leaving a lasting mark on literature.
ORWELL'S ICONIC NOVELS: PILLARS OF MODERN LITERATURE
His iconic dystopian novels, Animal Farm and 1984, are essential pillars of modern world literature. These works are necessary for understanding the tragic depth of historical catastrophes of the past decades, such as World War II and the rise of totalitarian regimes of fascism and communism.
WRITING CAREER AND LITERARY STYLE
Orwell began his writing career as a journalist, contributing to various newspapers and magazines. He also worked as a teacher, bookshop assistant, and war correspondent during his lifetime. His first novel, Down and Out in Paris and London, was published in 1933 under the pen name George Orwell.
Orwell's literary style is characterized by his clarity, wit, and exploration of complex political and social themes. His works often address the dangers of totalitarianism, the impact of poverty, and the importance of free thought.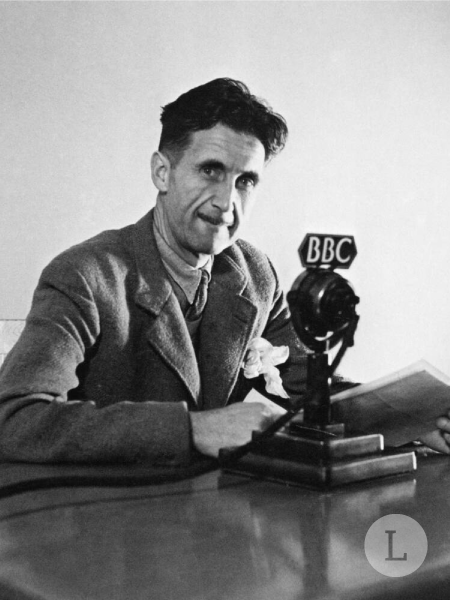 THE LIFE OF A HOMO SCRIBENS
George Orwell was a homo scribens – a man born to write, whose life was filled with writing, and for whom writing was a way of existence. In his essay, 'Why I Write,' published in 1946 in the literary quarterly Gangrel, he said, "From a very early age, perhaps the age of five or six, I knew that when I grew up, I should be a writer. Between the ages of about seventeen and twenty-four, I tried to abandon this idea, but I did so with the consciousness that I was outraging my true nature and that sooner or later I would have to settle down and write books."
THE MAN OF EMPIRICAL EXPERIENCE
Orwell was not just a homo scribens in the academic sense; his work was fundamentally rooted in empirical experience. He first served in the Indian Imperial Police in Burma, which inspired his novel 'Burmese Days' and essays like 'A Hanging' and 'Shooting an Elephant.' Disillusioned and disgusted with imperial administration, he set out to explore the poverty-stricken areas of London's East End and later Paris, where he worked as a dishwasher and lived the life of the exploited. This experience shaped his novel 'Down and Out in Paris and London.'
THE ACTIVIST AND THE SPANISH CIVIL WAR
Because he was not just a scholarly writer but also a practical socialist, Orwell went to fight in the Spanish Civil War at the end of 1936. His staunch anti-Stalinist stance and his negative attitude towards the Bolshevik Soviet Union landed him in the crosshairs of Stalinists and their secret service. He joined the non-Stalinist Marxist group POUM (Partido Obrero de Unificación Marxista) and fought on the Aragon front. After being seriously wounded in the neck near Huesca, he managed to escape to France. His experiences were later reflected in the novel 'Homage to Catalonia' and in the collection 'Looking Back on the Spanish War.'
I saw newspaper reports which did not bear any relation to the facts.

GEORGE ORWELL, LOOKING BACK ON THE SPANISH WAR

FINAL YEARS AND ENDURING LEGACY
Orwell's death on January 21, 1950, was a major loss to the literary world, but his legacy continues to resonate. His profound insights into social injustice, totalitarianism, and the abuse of power, his passionate advocacy for honesty and clarity in language, and his unwavering commitment to democratic socialism continue to influence political thought and literary expression.