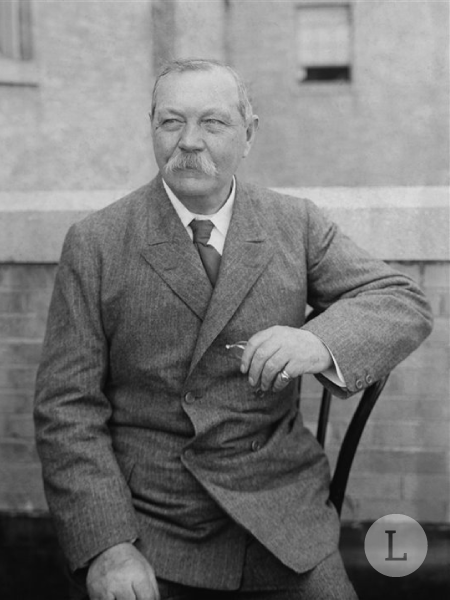 born: MAY 22, 1859
died: JULY 7, 1930
nationality: ENGLISH
genre: ADVENTURE, CRIME, DETECTIVE
Sir Arthur Conan Doyle, born on May 22, 1859, in Edinburgh, Scotland, was a celebrated author, physician, and spiritualist. Best known as the creator of the iconic detective Sherlock Holmes, Doyle's works have captivated readers for generations. In this comprehensive biography, we will delve into the life of Sir Arthur Conan Doyle, examine his most popular works, and reflect on his lasting influence on the world of literature and beyond.
EARLY LIFE AND EDUCATION
Born to Charles Altamont Doyle, a civil servant, and Mary Foley Doyle, Arthur Conan Doyle was raised in a Roman Catholic household. Despite his family's financial struggles, Doyle was able to attend the Jesuit preparatory school Hodder Place, Stonyhurst, followed by Stonyhurst College. He later studied at the University of Edinburgh Medical School, where he earned his Bachelor of Medicine and Master of Surgery degree in 1881.
LITERARY CAREER AND SUCCESS
While working as a physician, Doyle began writing short stories, with his first published story, The Mystery of Sasassa Valley, appearing in Chambers's Edinburgh Journal in 1879. However, it was the publication of his first Sherlock Holmes novel, A Study in Scarlet (1887), that marked the beginning of Doyle's successful literary career.
TOP 10 BOOKS BY ARTHUR CONAN DOYLE
A Study in Scarlet (1887)
The first Sherlock Holmes novel introduces readers to the eccentric detective and his loyal companion, Dr. John Watson. The story follows the duo as they solve a mysterious murder case in London.
The Sign of Four (1890)
In this gripping mystery, Holmes and Watson are hired to investigate the disappearance of a young woman's father, leading them on a thrilling chase through London's criminal underworld.
The Hound of the Baskervilles (1902)
In one of the most famous Sherlock Holmes stories, the detective investigates the legendary curse of the Baskerville family, involving a supernatural hound that haunts the Devonshire moors.
The Adventures of Sherlock Holmes (1892)
This collection of twelve short stories features some of Holmes's most memorable cases, including A Scandal in Bohemia, The Red-Headed League, and The Adventure of the Speckled Band.
The Memoirs of Sherlock Holmes (1894)
This compilation of eleven short stories continues the adventures of Holmes and Watson, with tales such as The Adventure of Silver Blaze, The Adventure of the Musgrave Ritual, and The Final Problem, in which Holmes faces his arch-nemesis, Professor Moriarty.
The Return of Sherlock Holmes (1905)
Following the apparent death of Holmes in The Final Problem, this collection of thirteen short stories marks the detective's triumphant return, featuring cases like The Adventure of the Empty House and The Adventure of the Dancing Men.
The Lost World (1912)
A departure from the Sherlock Holmes stories, this novel follows Professor Challenger's expedition to a mysterious plateau in South America, where he discovers a land inhabited by prehistoric creatures. This novel is considered one of the early works of science fiction.
The Valley of Fear (1915)
In this Sherlock Holmes novel, the detective is drawn into a complex case involving a secret society, a mysterious cipher, and a gruesome murder.
His Last Bow (1917)
This collection of eight short stories features some of Sherlock Holmes's final cases, including the titular story, His Last Bow, in which Holmes comes out of retirement to help the British government during World War I.
The Case-Book of Sherlock Holmes (1927)
Doyle's final collection of twelve Sherlock Holmes stories includes The Adventure of the Illustrious Client, The Adventure of the Sussex Vampire, and The Adventure of the Three Garridebs.
INTERESTING FACTS
Doyle was a skilled sportsman, participating in cricket, football, and golf. He even played cricket with the Marylebone Cricket Club alongside several prominent literary figures.
Despite his fame as the creator of Sherlock Holmes, Doyle had a strong interest in spiritualism and the paranormal, which led him to write several books on these subjects.
Doyle's character, Dr. John Watson, was inspired by his former medical school professor, Dr. Joseph Bell, who had an extraordinary talent for observation and deduction.
Doyle was knighted by King Edward VII in 1902, not for his literary contributions but for his work in defense of the British cause during the Boer War.
Doyle ran for Parliament twice as a Liberal Unionist candidate but was unsuccessful on both occasions.
DEATH AND LASTING LEGACY
Sir Arthur Conan Doyle passed away on July 7, 1930, at the age of 71, due to a heart attack. His enduring literary legacy, particularly the character of Sherlock Holmes , has had a profound impact on the mystery and detective fiction genres. Doyle's meticulous attention to detail, intricate plotting, and unforgettable characters have inspired countless authors, filmmakers, and television producers.
Sherlock Holmes remains one of the most recognizable and beloved characters in literature, with numerous adaptations appearing on stage, screen, and radio. The character has been portrayed by an array of talented actors, including Basil Rathbone, Jeremy Brett, Robert Downey Jr., and Benedict Cumberbatch.
In addition to his contributions to detective fiction, Doyle's works in other genres, such as historical fiction and science fiction, have also left a lasting mark on literature. His novel The Lost World is considered a pioneer of the lost world subgenre and has inspired numerous adaptations and derivative works.
Sir Arthur Conan Doyle's impressive body of work continues to captivate readers and audiences worldwide, ensuring his place as one of the most influential authors in the history of English literature. His stories and characters, particularly the inimitable Sherlock Holmes, will no doubt continue to inspire and entertain generations to come.
---