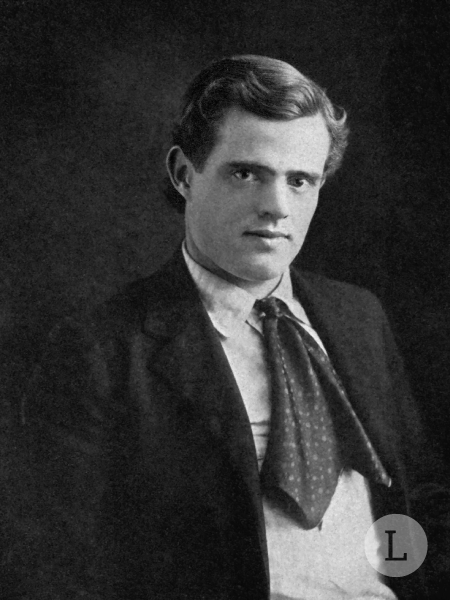 born: JANUARY 12, 1876
died: NOVEMBER 22, 1916
nationality: AMERICAN
movement: REALISM, NATURALISM
Jack London was an American novelist, journalist, and social activist whose adventurous life and thrilling tales of the great outdoors made him one of the most popular and widely-read authors of the early 20th century. London's works drew heavily on his own experiences and often explored themes of survival, individualism, and the harsh realities of life in the wilderness. His unique blend of gritty realism, captivating storytelling, and social commentary earned him a lasting place in American literature.
EARLY LIFE AND FORMATIVE EXPERIENCES
John Griffith Chaney, later known as Jack London, was born on January 12, 1876, in San Francisco, California. Raised in a working-class family, London left school at the age of 14 to work various jobs, including factory worker, sailor, and fisherman. These experiences would later inform his vivid portrayals of the harsh realities of life in his novels and short stories.
London returned to school and eventually attended the University of California, Berkeley, but dropped out after one semester due to financial constraints. In 1897, he joined the Klondike Gold Rush, a transformative experience that provided the backdrop for many of his most famous stories.
WRITING CAREER AND PERSONAL LIFE
London began his writing career by submitting short stories and articles to various publications. His breakthrough came with the publication of The Call of the Wild in 1903, which quickly became a bestseller and cemented his reputation as a gifted storyteller. Over the next decade, he would go on to write more than 50 novels, hundreds of short stories, and numerous essays and articles.
London was an advocate for social reform and a prominent member of the socialist movement, themes that frequently appeared in his works. He was also an avid traveler and adventurer, which greatly influenced his writing.
In 1905, London married Charmian Kittredge, who shared his passion for adventure and travel. The couple settled in Glen Ellen, California, where they built a ranch and lived until London's death in 1916.
TOP 10 BOOKS BY JACK LONDON
The Call of the Wild (1903)
A classic adventure novel about a domesticated dog named Buck who is stolen from his home and sold into the brutal life of an Alaskan sled dog, where he must learn to survive and adapt to the harsh wilderness.
White Fang (1906)
A companion novel to The Call of the Wild, this story follows the life of White Fang, a half-wolf, half-dog who endures a harsh existence in the Yukon Territory before finding redemption and love.
The Sea-Wolf (1904)
A gripping tale of survival and adventure on the high seas, as the intellectual and refined Humphrey Van Weyden is rescued by the brutal and ruthless Wolf Larsen, captain of the sealing schooner Ghost.
Martin Eden (1909)
A semi-autobiographical novel that follows the life of Martin Eden, a struggling writer who rises from poverty and obscurity to success and fame, only to find disillusionment and tragedy.
The Iron Heel (1908)
A dystopian novel that imagines a future American society where a tyrannical oligarchy, known as the Iron Heel, ruthlessly suppresses the working class and its attempts at revolution.
The People of the Abyss (1903)
A groundbreaking work of investigative journalism, in which London exposes the harsh living conditions and social inequalities faced by the poor in London's East End during the early 20th century.
To Build a Fire (1908)
A gripping short story about a man's struggle to survive in the unforgiving Yukon wilderness after a series of miscalculations and misfortunes leaves him stranded in the freezing cold.
The Cruise of the Snark (1911)
A non-fiction account of London's own adventures as he set sail across the Pacific Ocean with his wife, Charmian, on their custom-built sailing ship, the Snark.
John Barleycorn (1913)
A semi-autobiographical novel that explores London's lifelong battle with alcoholism, as well as the broader social issues surrounding addiction and temperance.
Before Adam (1907)
A speculative novel that delves into the world of prehistoric humans and their struggle for survival, as seen through the eyes of a modern man who experiences their lives in his dreams.
INTERESTING FACTS
London was one of the first authors to achieve international fame and financial success through his writing, making him a pioneer of commercial magazine fiction.
An advocate for animal rights, London's works often featured strong, empathetic portrayals of animals and their relationships with humans.
London's ranch in Glen Ellen, California, now known as Jack London State Historic Park, was an experimental and sustainable farm where he applied innovative agricultural practices.
London was a staunch supporter of the socialist movement and ran unsuccessfully for mayor of Oakland, California, twice as a socialist candidate.
He was an accomplished sailor and adventurer, traveling extensively throughout his life, including trips to Hawaii, Australia, and the South Pacific.
DEATH AND ENDURING LEGACY
Jack London died on November 22, 1916, at the age of 40. The cause of his death has been a subject of debate, with theories ranging from kidney disease to accidental morphine overdose. His ashes were buried on his beloved ranch in Glen Ellen, California.
London's literary legacy is immense. His thrilling tales of adventure and survival continue to resonate with readers and have been adapted into numerous films, television shows, and stage productions. As one of the first authors to achieve widespread commercial success, he paved the way for future generations of writers.
London's works also stand as a testament to his commitment to social justice and his deep concern for the plight of the underprivileged. His vivid portrayals of life on the fringes of society, and his unflinching exploration of the human struggle for survival, continue to inspire and challenge readers more than a century after his death.
As we reflect on Jack London's life and works, it is clear that his influence and impact on the world of literature, as well as his advocacy for social reform and environmental stewardship, will endure for generations to come.
---