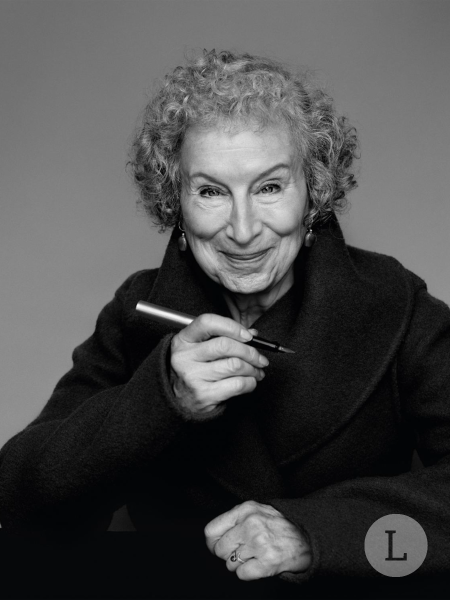 born: AUGUST 2, 1942
died: -
nationality: CANADIAN
movement: POSTMODERNISM
Margaret Atwood is a renowned Canadian author, poet, literary critic, and environmental activist. With a career spanning over five decades, she has written numerous novels, short stories, and essays that have been translated into more than 40 languages. Atwood is best known for her speculative fiction works, which often explore themes of feminism, social and political critique, and environmentalism. Her most famous work, The Handmaid's Tale, has been adapted into a successful television series, further expanding her influence on contemporary culture.
EARLY LIFE AND EDUCATION
Margaret Eleanor Atwood was born on November 18, 1939, in Ottawa, Ontario, Canada. The daughter of a forest entomologist and a former dietitian, Atwood spent her early years in various remote regions of Canada as her father conducted research. This exposure to the wilderness would later shape her environmental concerns and themes in her works.
Atwood began writing at a young age and was first published while attending Leaside High School in Toronto. She later pursued her higher education at Victoria College in the University of Toronto, where she earned a Bachelor's degree in English literature in 1961. Atwood went on to earn a Master's degree in English literature from Radcliffe College, Harvard University, in 1962.
CAREER AND LITERARY SUCCESS
Margaret Atwood's literary career began in earnest with the publication of her first poetry collection, Double Persephone, in 1961. Her first novel, The Edible Woman, was published in 1969, exploring themes of consumer culture and women's roles in society. Over the years, she continued to publish acclaimed works in various genres, solidifying her reputation as a prolific and influential author.
Atwood's most famous work, The Handmaid's Tale (1985), is a dystopian novel set in a future America ruled by a theocratic regime that subjugates women. The novel won several awards and has been adapted into a successful television series, further cementing Atwood's status as a literary icon.
TOP 10 BOOKS BY MARGARET ATWOOD
The Handmaid's Tale (1985)
Set in a dystopian future, this novel explores the life of a woman named Offred, who is forced to serve as a handmaid to bear children for the ruling class.
Alias Grace (1996)
A historical fiction novel based on the true story of Grace Marks, a 19th-century Irish-Canadian maid who was convicted of murder.
The Blind Assassin (2000)
This novel intertwines the stories of two sisters and a science fiction novel-within-a-novel, which won the Man Booker Prize in 2000.
The first installment of the MaddAddam trilogy, this speculative fiction novel examines the consequences of bioengineering and corporate power.
The second book in the MaddAddam trilogy, this novel is set concurrently with Oryx and Crake and explores the lives of two women surviving in a post-apocalyptic world.
The conclusion to the MaddAddam trilogy, this novel follows the survivors of a global pandemic as they strive to rebuild society.
The Robber Bride (1993)
Inspired by the Grimm fairy tale, this novel tells the story of three women and their encounters with a mysterious and manipulative woman named Zenia.
Cat's Eye (1988)
A powerful exploration of the complexities of female friendships, this novel follows a controversial painter who returns to her hometown and confronts her childhood memories.
Surfacing (1972)
This psychological novel follows a young woman who returns to her childhood home in Quebec to search for her missing father, leading her to confront her own past and identity.
Hag-Seed (2016)
A modern retelling of Shakespeare's The Tempest, this novel tells the story of a theater director seeking revenge on those who betrayed him through a unique production of the play.
INTERESTING FACTS FROM MARAGRET ATWOOD'S LIFE
Atwood is an inventor and holds a patent for the LongPen, a remote signing device that allows authors to sign books from a distance.
Despite her novels often being classified as science fiction, Atwood prefers the term speculative fiction to describe her works, as she believes they explore possible futures based on current trends.
Atwood has a strong interest in environmentalism and has been a long-time supporter of the Green Party of Canada.
She has a background in opera and has co-written the libretto for an opera adaptation of her novel The Handmaid's Tale.
Atwood is a prolific tweeter and has embraced social media as a way to connect with her readers and discuss contemporary issues.
AWARDS & HONORS
Throughout her career, Margaret Atwood has received numerous awards and honors, both nationally and internationally. Some of her most notable accolades include:
Governor General's Award for English-language fiction (1966, 1985)
Giller Prize (1996)
Man Booker Prize (2000)
Prince of Asturias Award for Literature (2008)
Dan David Prize (2010)
Companion of the Order of Canada (1981)
Fellow of the Royal Society of Canada (1987)
LEGACY
Margaret Atwood's literary contributions have had a lasting impact on contemporary literature, particularly in the realm of speculative fiction. Her works have inspired countless readers and writers to explore themes of social and political critique, feminism, and environmentalism. As a living author, Atwood continues to influence literature and engage with readers through her writing, activism, and social media presence.
---