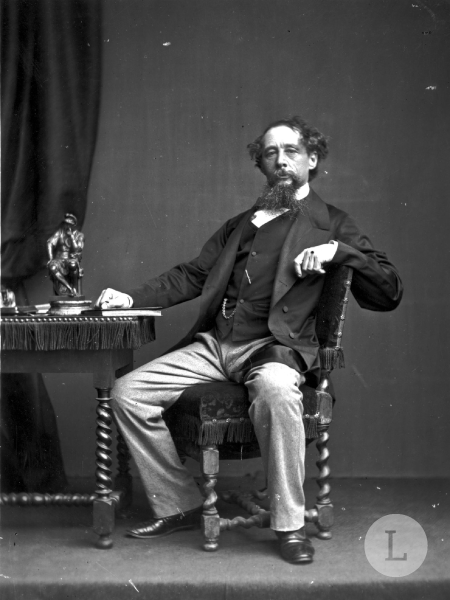 born: FEBRUARY 7, 1812
died: JUNE 9, 1870
nationality: ENGLISH
movement: REALISM, VICTORIAN ERA
Charles Dickens, born on February 7, 1812, in Portsmouth, England, was a prolific author, social critic, and one of the most influential literary figures in history. His novels, filled with memorable characters and vivid portrayals of Victorian society, continue to resonate with readers worldwide. In this comprehensive article, we will examine the life of Charles Dickens, explore his most popular works, and reflect on his enduring literary legacy.
EARLY LIFE AND EDUCATION
Charles John Huffam Dickens was born to John Dickens, a naval clerk, and Elizabeth Barrow Dickens. Due to his father's financial struggles, the family moved frequently, eventually settling in London. Dickens' childhood experiences, marked by poverty and hardship, would later serve as inspiration for many of his works.
Dickens received a limited formal education, attending the Wellington House Academy and later the London Mechanics' Institute. However, he was an avid reader, immersing himself in the works of classic authors such as Tobias Smollett, Henry Fielding, and Daniel Defoe.
LITERARY CAREER AND SUCCESS
Dickens began his career as a freelance reporter and soon gained recognition for his early sketches and stories. His first major literary success came with the publication of The Pickwick Papers (1836-1837), a series of humorous sketches that earned him widespread acclaim.
Throughout his career, Dickens wrote numerous novels, short stories, essays, and plays, many of which were published in serial format. His works often focused on themes such as social injustice, poverty, and the plight of the working class, making them highly relevant and resonant during the Victorian era.
TOP 10 BOOKS BY CHARLES DICKENS
This humorous collection of sketches and stories follows the adventures of Samuel Pickwick and his friends as they travel around England. The novel showcases Dickens' talent for creating memorable characters and satirizing society.
In this classic novel, the young orphan Oliver Twist navigates the harsh streets of London while struggling to find his place in a world filled with cruelty and corruption. The novel explores themes of social injustice and the harsh realities of Victorian England.
Nicholas Nickleby (1838-1839)
The eponymous hero of this novel sets out to seek his fortune and encounters a colorful array of characters along the way. The novel is a vivid depiction of the social ills and abuses of the time, including the infamous Yorkshire schools.
In this beloved holiday classic, the miserly Ebenezer Scrooge is visited by three spirits who guide him on a journey of self-discovery and redemption. The novella's message of compassion and goodwill has resonated with generations of readers.
This semi-autobiographical novel follows the life and adventures of David Copperfield, from his humble beginnings to his eventual success as a writer. The novel is filled with memorable characters and explores themes of perseverance and personal growth.
Bleak House (1852-1853)
This complex novel weaves together multiple storylines to expose the injustices of the legal system and the damaging effects of industrialization on society. With its intricate plot and large cast of characters, Bleak House is considered one of Dickens' most ambitious works.
Hard Times (1854)
Set in the fictional industrial town of Coketown, Hard Times explores the struggles of the working class and the negative impact of utilitarianism on human values. The novel is a powerful critique of the social and economic conditions of Victorian England.
A Tale of Two Cities (1859)
This historical novel, set during the French Revolution, tells the intertwined stories of characters from both England and France as they navigate the turbulent events of the era. The novel explores themes of sacrifice, redemption, and the possibility of resurrection.
In this bildungsroman, the young protagonist Pip experiences a series of life-changing events as he pursues his dreams of wealth and social advancement. The novel examines themes of ambition, love, and the complexities of human nature.
Our Mutual Friend (1864-1865)
Dickens' last completed novel follows the lives of various characters connected to the inheritance of a large fortune. The novel is a dark and satirical exploration of the corrupting influence of money and society's obsession with material wealth.
INTERESTING FACTS
Childhood Hardship: Dickens experienced financial difficulties early in his life when his father, John Dickens, was imprisoned for debt. At the age of 12, Charles had to work in a shoe polish factory to help support his family, an experience that deeply impacted him and influenced his later works.
Secret Shorthand: Before becoming a successful writer, Dickens worked as a court reporter. To keep up with the fast pace of legal proceedings, he mastered a form of shorthand called Gurney's system, which he used to take detailed notes during trials.
Pseudonym: Early in his career, Dickens wrote under the pen name "Boz," which was derived from his younger brother's nickname, Moses, whom he affectionately called "Moses" or "Boses."
Social Reformer: Dickens was a strong advocate for social reform and used his novels to highlight the plight of the poor, the injustices faced by children, and the inadequacies of the British legal system.
Public Readings: Dickens was known for his energetic and engaging public readings of his works. These performances were incredibly popular, drawing large crowds and allowing Dickens to connect directly with his audience.
Serial Publication: Many of Dickens' novels were initially published in serialized form, with new installments appearing in newspapers or magazines on a monthly or weekly basis. This format allowed him to gauge public reaction and even adjust his stories based on reader feedback.
Dickens' Memory: Dickens had an exceptional memory, which allowed him to recall intricate details from his own life and the lives of others. This skill was instrumental in creating the vivid and memorable characters that populate his novels.
DEATH AND LASTING LEGACY
Charles Dickens passed away on June 9, 1870, at the age of 58, leaving behind an unfinished novel, "The Mystery of Edwin Drood." He was laid to rest in Poets' Corner at Westminster Abbey, a testament to his immense literary contributions.
Dickens' legacy endures in the form of his timeless works, which continue to captivate readers with their vivid portrayals of Victorian society, memorable characters, and compelling themes. His novels have been adapted into countless stage and screen productions, and his influence on subsequent generations of authors is indisputable. Charles Dickens remains an iconic figure in the world of literature, celebrated for his unparalleled storytelling and keen insights into the human condition.
---