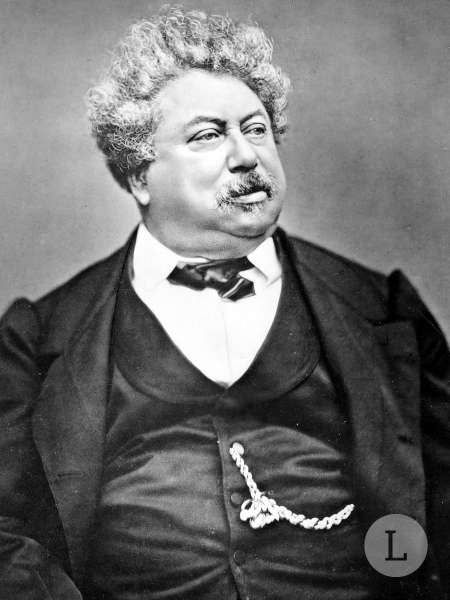 born: JULY 24, 1802
died: DECEMBER 5, 1870
nationality: FRENCH
movement: ROMANTICISM, HISTORICAL FICTION
Alexandre Dumas, born Dumas Davy de la Pailleterie (1802-1870), was a prolific French writer known for his historical novels of high adventure. His works have been translated into numerous languages, and he is considered one of the most widely read French authors. In this comprehensive biography, we will explore the life of Alexandre Dumas, his most famous works, and the fascinating details of his personal life.
EARLY LIFE AND FAMILY BACKGROUND
Alexandre Dumas was born on July 24, 1802, in Villers-Cotterêts, France. He was the son of Thomas-Alexandre Dumas, a general in Napoleon's army, and Marie-Louise Labouret. His father was the grandson of a French nobleman and an enslaved woman from the French colony of Saint-Domingue (now Haiti). Dumas' mixed-race heritage would play a significant role in his life and influence his work.
CAREER BEGINNINGS
Dumas moved to Paris in 1822, where he worked as a clerk and began writing plays. His first success came in 1829 with the production of his play Henry III and His Courts. This triumph led to a string of successful plays, and Dumas quickly gained a reputation as a talented playwright. However, it was his venture into novel writing that would secure his place in literary history.
TOP 10 BOOKS BY ALEXANDRE DUMAS
The Count of Monte Cristo (1844)
This thrilling adventure novel tells the story of Edmond Dantès, a man wrongfully imprisoned, who escapes and seeks revenge on those who betrayed him. The novel is a classic tale of justice, vengeance, and redemption.
The Three Musketeers (1844)
Set in 17th-century France, this swashbuckling tale follows the adventures of d'Artagnan and his three friends, Athos, Porthos, and Aramis, as they navigate the intrigues of the royal court and fight for honor and loyalty.
Twenty Years After (1845)
A sequel to The Three Musketeers, this novel reunites d'Artagnan and his companions as they embark on new adventures during the tumultuous times of the Fronde and the English Civil War.
The Vicomte of Bragelonne (1847-1850)
This serialized novel, often divided into three or four volumes (The Vicomte of Bragelonne, Ten Years Later, Louise de la Vallière, and The Man in the Iron Mask), continues the story of d'Artagnan and the Three Musketeers in the twilight of their careers.
The Black Tulip (1850)
A historical romance set in the Netherlands during the 17th century, The Black Tulip follows the story of Cornelius van Baerle, a tulip grower falsely accused of a crime, and his journey to prove his innocence.
Queen Margot (1845)
This historical novel set during the French Wars of Religion focuses on the love affair between Marguerite de Valois, the sister of King Charles IX, and Henri de Navarre, who would later become King Henri IV of France.
The Corsican Brothers (1844)
A novella about a set of twins separated at birth who share a mysterious psychic bond, this story explores themes of family, loyalty, and the powerful connection between siblings.
La Reine des Neiges (The Snow Queen) (1861)
This lesser-known work by Dumas is a retelling of Hans Christian Andersen's famous fairy tale, featuring a strong and independent female protagonist in search of her missing brother.
The Knight of Maison-Rouge (1846)
Set during the French Revolution, this historical novel centers on the secret plot to rescue Marie Antoinette from her imprisonment and the young man who risks his life to save her.
Joseph Balsamo (1846-1848)
Also known as Memoirs of a Physician, this four-volume series follows the life of the enigmatic Cagliostro (Joseph Balsamo), an Italian adventurer and occultist, as he navigates the intrigue and danger of 18th-century Europe.
INTERESTING FACTS
Dumas was an accomplished fencer, and his passion for the sport inspired many of the sword-fighting scenes in his novels.
Despite his success, Dumas faced significant financial difficulties throughout his life due to his extravagant lifestyle, which included maintaining a lavish estate, hosting extravagant parties, and supporting numerous romantic liaisons.
Dumas was an active participant in the French Revolution of 1848, and he briefly served as a member of the French National Assembly.
In 1851, Dumas fled to Belgium to escape his creditors, and he later lived in Italy and Russia, where he continued to write and produce plays.
Dumas' son, Alexandre Dumas fils, also became a successful writer, best known for his novel La Dame aux Camélias (The Lady of the Camellias).
DEATH AND LASTING LEGACY
Alexandre Dumas passed away on December 5, 1870, at his son's home in Puys, France. He was initially buried in the cemetery of Villers-Cotterêts, but in 2002, his remains were exhumed and reinterred in the Panthéon in Paris, where many of France's most illustrious figures are laid to rest. This move was a recognition of Dumas' significant contributions to French literature and culture.
Dumas' legacy is far-reaching, as his works have been adapted into numerous stage productions, films, and television series. His timeless tales of adventure, romance, and historical intrigue continue to captivate readers and inspire new generations of writers. Dumas' unique blend of rich storytelling and well-drawn characters has cemented his status as one of the world's most beloved and enduring authors.
In conclusion, Alexandre Dumas was a prolific and influential writer whose life was as colorful and dramatic as his works. From his humble beginnings to his rise as a literary giant, Dumas' life and legacy will forever be remembered as an essential part of French literature and world history.
---