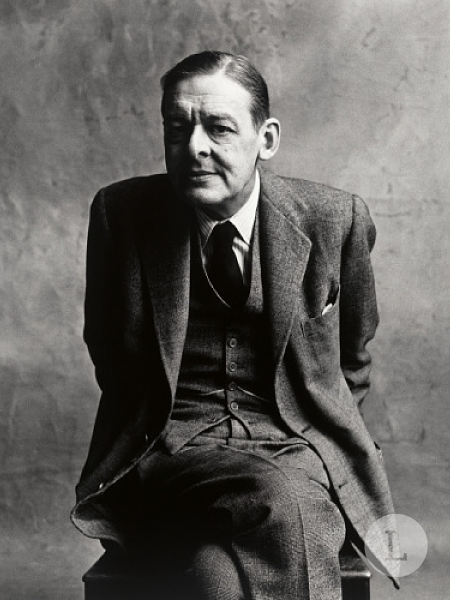 born: SEPTEMBER 26, 1888
died: JANUARY 4, 1965
nationality: AMERICAN/BRITISH
genre: POETRY
Thomas Stearns Eliot, better known as T.S. Eliot was a renowned poet, playwright, and literary critic who played a significant role in the development of modernist literature. Born in St. Louis, Missouri, on September 26, 1888, Eliot's works continue to captivate and inspire readers worldwide. In this article, we will explore his life, top works, interesting facts, and lasting legacy.
EARLY LIFE AND EDUCATION
T.S. Eliot was born into a prominent and well-educated family, with his father being a successful businessman and his mother a poet and social worker. Eliot was the youngest of seven children and showed an early interest in literature. He attended Smith Academy in St. Louis before enrolling at Harvard University in 1906. Eliot received his Bachelor's degree in 1909 and his Master's degree in 1910. He later studied at the Sorbonne in Paris and continued his education at Merton College, Oxford.
LITERARY CAREER
T.S. Eliot's first published work, The Love Song of J. Alfred Prufrock, appeared in Poetry magazine in 1915. This poem is considered a milestone in the modernist movement, characterized by its stream-of-consciousness style and innovative use of language. Eliot continued to publish groundbreaking works throughout his career, including The Waste Land, Ash Wednesday, and Four Quartets. He also ventured into playwriting with works like Murder in the Cathedral and The Cocktail Party.
TOP 10 BOOKS BY T. S. ELIOT
The Waste Land (1922)
Considered one of the most important poems of the 20th century, The Waste Land is a modernist masterpiece that explores themes of disillusionment, despair, and the fractured nature of society following World War I.
The Love Song of J. Alfred Prufrock (1915)
Eliot's first notable work, this poem delves into the thoughts and feelings of the eponymous J. Alfred Prufrock, a man grappling with self-doubt, alienation, and a fear of emotional vulnerability.
Four Quartets (1943)
Comprised of four interconnected poems, the Four Quartets meditate on themes of time, spiritual experience, and the nature of art, blending philosophical musings with vivid imagery.
Murder in the Cathedral (1935)
A verse drama, this play is based on the assassination of Archbishop Thomas Becket in 1170. It explores themes of power, martyrdom, and the individual's struggle against institutional authority.
Old Possum's Book of Practical Cats (1939)
A whimsical collection of light verse about various cats, this book served as the basis for the long-running musical Cats by Andrew Lloyd Webber.
Ash-Wednesday (1930)
A deeply introspective poem, Ash-Wednesday marks Eliot's turn towards religious themes, focusing on the speaker's spiritual journey towards redemption and self-understanding.
Gerontion (1920)
This poem presents the reflections of an elderly man contemplating the decay of modern society, touching on themes of disillusionment, memory, and the passage of time.
The Hollow Men (1925)
A haunting work that explores the spiritual emptiness of modern society, The Hollow Men features striking images of desolation and despair, reflecting the disillusioned mood of the post-World War I era.
Sweeney Agonistes (1926-1932)
A collection of fragmentary dramatic scenes, Sweeney Agonistes is marked by its use of colloquial language, dark humor, and striking imagery to explore themes of isolation, disillusionment, and the human condition.
Tradition and the Individual Talent (1919)
An essay that has become a cornerstone of 20th-century literary criticism, Eliot argues for the importance of understanding and engaging with the literary tradition, while also emphasizing the role of individual creativity in shaping new works.
INTERESTING FACTS
Eliot worked at Lloyds Bank in London for nearly a decade, a job he took to support himself while writing poetry.
He became a British citizen in 1927 and renounced his American citizenship.
Eliot's second wife, Valerie Fletcher, was nearly 38 years his junior and worked as his secretary at the publishing house Faber and Faber.
Old Possum's Book of Practical Cats inspired the long-running Broadway musical Cats by Andrew Lloyd Webber.
Eliot was awarded the Nobel Prize in Literature in 1948.
DEATH AND LEGACY
T.S. Eliot passed away on January 4, 1965, in London. His literary achievements and innovative writing style have left an indelible mark on modern literature. Eliot's work has influenced countless writers, including Virginia Woolf, James Joyce, and Sylvia Plath. Today, he is remembered as one of the most important poets and literary critics of the 20th century.
Eliot's impact on literature is celebrated through numerous awards and fellowships in his name, including the T.S. Eliot Prize for Poetry, one of the most prestigious poetry awards in the United Kingdom. His works continue to be studied, analyzed, and enjoyed by readers around the world, ensuring his lasting legacy as a titan of modern literature.
---