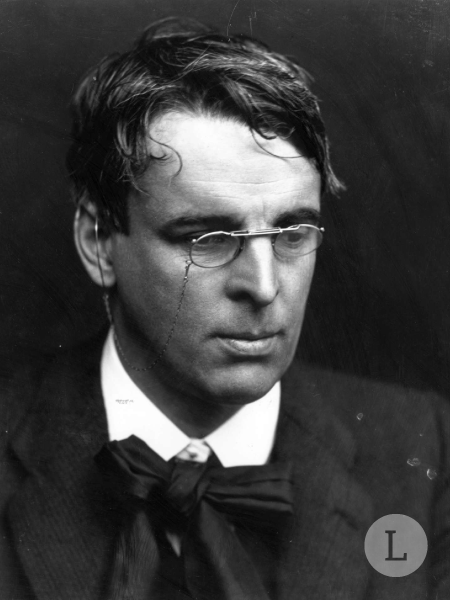 born: JUNE 13, 1865
died: JANUARY 28, 1939
nationality: IRISH
genre: POETRY
William Butler Yeats (1865-1939) was an Irish poet and playwright, one of the foremost figures of 20th-century literature. A driving force behind the Irish Literary Revival, Yeats was a co-founder of the Abbey Theatre and served as its chief during its early years. His deep-rooted nationalism, spiritual beliefs, and love for the Irish countryside greatly influenced his poetry, which evolved from Romantic to Modernist over his long career.
EARLY LIFE AND EDUCATION
Yeats was born on June 13, 1865, in Dublin, Ireland, to a middle-class family. His father, John Butler Yeats, was a prominent portrait painter, while his mother, Susan Mary Pollexfen, came from a wealthy merchant family. The family moved to London in 1867 but returned to Ireland in 1880, settling in Sligo, a region that had a profound influence on Yeats's early poetry.
Yeats was educated in both England and Ireland, attending several art schools with the intention of becoming a painter like his father. However, his interest in literature soon took precedence, and he began to focus on poetry and drama.
CAREER AND LITERARY SUCCESS
Yeats published his first poems in the Dublin University Review in 1885. His early works were characterized by Romantic and Pre-Raphaelite influences, drawing on Irish mythology and folklore. As his career progressed, Yeats shifted toward a more modernist style, incorporating symbolism and occult themes.
In 1899, Yeats co-founded the Irish Literary Theatre, which later became the Abbey Theatre, and he played a significant role in the Irish Literary Revival. His plays, such as Cathleen ni Houlihan (1902) and The Countess Cathleen (1911), aimed to create a distinct Irish national drama.
TOP 10 BOOKS BY WILLIAM BUTLER YEATS
The Celtic Twilight (1893)
A collection of essays, stories, and folklore that showcases Yeats's fascination with Irish mythology and spirituality.
Crossways (1894)
Yeats's first poetry collection, featuring romantic and nature-inspired poems.
The Wind Among the Reeds (1899)
A poetry collection characterized by symbolism and mysticism, including the famous poem The Lake Isle of Innisfree.
Responsibilities (1914)
A collection of poems reflecting Yeats's growing disillusionment with the Irish nationalist movement.
Easter, 1916 (1916)
A powerful poem commemorating the Irish Easter Rising, marking a turning point in Yeats's political and poetic outlook.
The Wild Swans at Coole (1917)
A poetry collection that demonstrates Yeats's maturing style and explores themes of love, loss, and aging.
Michael Robartes and the Dancer (1921)
A collection featuring some of Yeats's most famous poems, including The Second Coming and A Prayer for my Daughter.
The Tower (1928)
A collection of poems written during a period of personal turmoil, containing masterpieces such as Sailing to Byzantium and Leda and the Swan.
The Winding Stair and Other Poems (1933)
A collection showcasing Yeats's later style, including the poignant Among School Children.
Last Poems (1938-1939)
A collection published posthumously, featuring some of Yeats's final works, such as Under Ben Bulben and The Circus Animals' Desertion.
INTERESTING FACTS
Yeats had a lifelong interest in mysticism and the occult, joining the Hermetic Order of the Golden Dawn and later the Theosophical Society.
He was romantically involved with Irish revolutionary Maud Gonne, who inspired much of his early poetry.
Yeats was appointed a senator of the Irish Free State in 1922 and served for two terms.
He was awarded the Nobel Prize in Literature in 1923, becoming the first Irishman to win the prestigious award.
Yeats continued to write and revise his works until his death, often reworking earlier poems to fit his changing style and beliefs.
AWARDS AND HONORS
Nobel Prize in Literature (1923) – Awarded for his always inspired poetry, which in a highly artistic form gives expression to the spirit of a whole nation.
Honorary Degree from Trinity College, Dublin (1922)
Honorary Member of the American Academy of Arts and Letters (1935)
Yeats's image appeared on the Irish £20 banknote from 1976 to 2001.
Numerous literary awards and distinctions throughout his career.
DEATH AND LEGACY
William Butler Yeats died on January 28, 1939, in Roquebrune-Cap-Martin, France. His body was initially buried in France but was later reinterred in Drumcliffe, County Sligo, Ireland, in accordance with his wishes.
Yeats's lasting legacy is his significant contribution to both Irish and world literature. His work spans a variety of themes and styles, and he remains an influential figure in the realms of poetry, drama, and Irish cultural history. Many of his works, particularly his later poems, are still widely read and studied today.
---