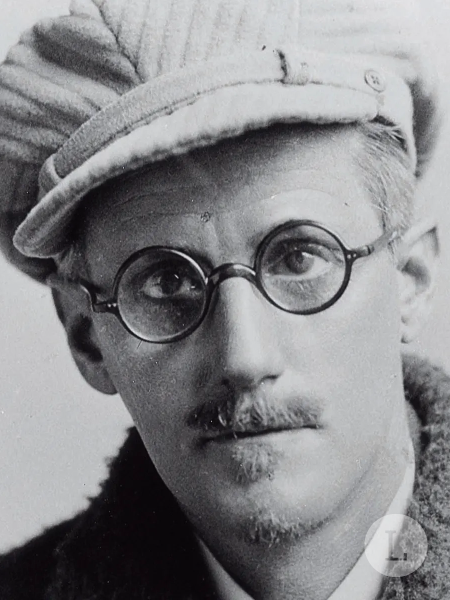 born: FEBRUARY 2, 1882
died: JANUARY 13, 1941
nationality: IRISH
movement: MODERNISM
Explore the life and works of James Joyce, one of the most influential and innovative writers of the 20th century. This comprehensive biography covers Joyce's early life, education, career, top books, interesting facts, and his lasting impact on literature and popular culture. Journey through the world of this groundbreaking author, whose unique style and bold experimentation with language and narrative continue to inspire readers and writers alike.
EARLY LIFE AND EDUCATION
James Augustine Aloysius Joyce was born on February 2, 1882, in Rathgar, a suburb of Dublin, Ireland. He was the eldest of ten surviving children in a middle-class Catholic family. His father, John Stanislaus Joyce, was a well-respected figure in Dublin society, but his financial situation deteriorated over the years due to poor investments and alcoholism.
Joyce was a bright student and attended Clongowes Wood College, a prestigious Jesuit boarding school. He later studied at Belvedere College and University College Dublin, where he became interested in literature, philosophy, and modernist writing. During his time at university, Joyce published his first work, a review of Ibsen's play When We Dead Awaken, in the college's literary magazine.
CAREER AND LITERARY SUCCESS
Joyce's literary career began in earnest with the publication of his collection of short stories, Dubliners (1914), which portrays the lives of ordinary Dubliners and explores themes of Irish nationalism, religion, and the human condition. Despite initial difficulties in finding a publisher, the book was well-received and established Joyce as a promising new voice in literature.
In 1922, Joyce published his most famous work, Ulysses, which follows the lives of Leopold Bloom, Stephen Dedalus, and Molly Bloom over the course of a single day in Dublin. The novel's groundbreaking narrative techniques, including stream-of-consciousness and a complex structure of interconnected episodes, made it a landmark of modernist literature. However, its explicit content led to controversy and obscenity trials, which only served to heighten its fame.
Joyce's final novel, Finnegans Wake (1939), is considered one of the most challenging works of fiction ever written, due to its dense, experimental language and intricate structure. Despite its complexity, the novel has been hailed as a masterpiece of literary innovation.
TOP 10 BOOKS BY JAMES JOYCE
Ulysses (1922)
Joyce's seminal work, this novel follows the lives of Leopold Bloom, Stephen Dedalus, and Molly Bloom over a single day in Dublin, using innovative narrative techniques to explore their inner thoughts and experiences.
Dubliners (1914)
A collection of 15 short stories that depict the lives of ordinary Dubliners, touching on themes such as Irish nationalism, religion, and the human condition.
A Portrait of the Artist as a Young Man (1916)
A semi-autobiographical novel that traces the intellectual and emotional development of Stephen Dedalus, a young artist struggling to find his place in the world.
Finnegans Wake (1939)
Joyce's final and most challenging work, this novel is a complex, multi-layered exploration of language, Irish history, and the human experience, written in an experimental and dense style.
Stephen Hero (1944)
Published posthumously, this early version of A Portrait of the Artist as a Young Man offers insight into Joyce's development as a writer and the evolution of his literary style.
Exiles (1918)
Joyce's only play, which explores themes of love, betrayal, and artistic integrity through the story of a writer returning to Dublin after a self-imposed exile.
Pomes Penyeach (1927)
A collection of 13 poems that showcase Joyce's skill as a poet and his love for language and wordplay.
Chamber Music (1907)
Joyce's first published work, this collection of 36 poems explores themes of love and longing in a lyrical, musical style.
Giacomo Joyce (1968)
Published posthumously, this prose-poem offers a glimpse into Joyce's time as a teacher in Trieste and his infatuation with a student.
Collected Poems (1936)
This compilation brings together Joyce's poetry from Chamber Music and Pomes Penyeach, highlighting his mastery of verse and the musicality of his language.
INTERESTING FACTS
Joyce was a talented singer and considered pursuing a career as an opera singer before focusing on writing.
He suffered from a lifelong fear of dogs, stemming from an incident in his childhood when he was bitten by a dog.
Joyce was fluent in multiple languages, including Italian, French, and German, and worked as a language teacher to support himself while writing.
Many of Joyce's works, including Ulysses and Finnegans Wake, were published with the help of American bookseller and publisher Sylvia Beach.
Although Joyce left Ireland in his early twenties and spent most of his adult life in Europe, his writing remained deeply connected to his native country, particularly Dublin.
AWARDS AND HONORS
While Joyce did not receive many awards during his lifetime, his work has been celebrated and recognized for its lasting impact on literature. Some posthumous honors include:
In 1999, Ulysses was voted the best novel of the 20th century by the Modern Library and The Observer.
Bloomsday, a celebration of Joyce's life and work, is held annually on June 16th, the day on which the events of Ulysses take place.
The James Joyce Centre in Dublin, established in 1996, is dedicated to promoting the life and work of Joyce through exhibitions, events, and educational programs.
In 1982, the Irish government issued a commemorative stamp in honor of Joyce's birth centenary, featuring a portrait of the author.
Joyce's lasting impact on literature is undeniable, and his innovative, challenging works continue to be studied, admired, and celebrated for their unparalleled contributions to the world of fiction.
DEATH AND LEGACY
James Joyce died on January 13, 1941, in Zurich, Switzerland, at the age of 58, after undergoing surgery for a perforated ulcer. His body was buried in Zurich's Fluntern Cemetery, where it remains to this day.
Joyce's influence on modern literature is profound and far-reaching, with his works continuing to inspire and challenge readers and writers alike. His groundbreaking use of language and narrative techniques have made him a central figure in the development of 20th-century literature, and his works remain essential reading for anyone interested in the evolution of fiction and the power of the written word.
---