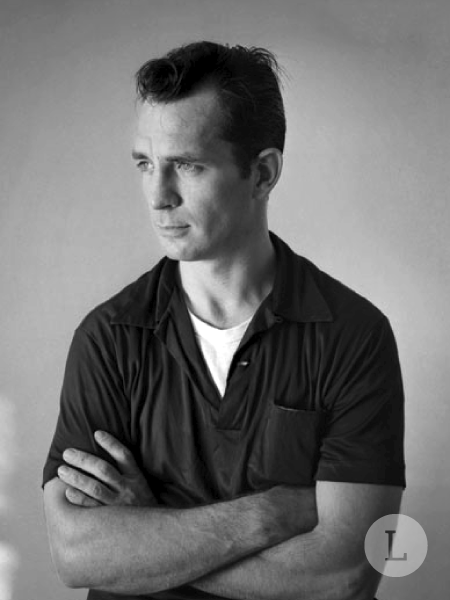 born: MARCH 12, 1922
died: OCTOBER 21, 1969
nationality: AMERICAN
movement: BEAT GENERATION
Discover the life and works of Jack Kerouac, a pioneer of the Beat Generation and one of the most influential American writers of the 20th century. This comprehensive biography covers Kerouac's early life, education, career, top books, interesting facts, and his lasting impact on literature and popular culture. Delve into the world of this groundbreaking author, whose unique style and free-spirited approach to life and writing continue to inspire readers and writers alike.
EARLY LIFE AND EDUCATION
Jack Kerouac was born on March 12, 1922, in Lowell, Massachusetts, to French-Canadian parents, Leo-Alcide Kéroack and Gabrielle-Ange Lévesque. Raised in a working-class family, Kerouac grew up speaking French and did not learn English until he was six years old. He was a bright student and excelled in athletics, especially football.
After graduating from Lowell High School, Kerouac received a football scholarship to Columbia University in New York City. However, a leg injury ended his athletic career, and he eventually dropped out of college. While in New York, Kerouac became acquainted with several future Beat Generation writers, including Allen Ginsberg, William S. Burroughs, and Neal Cassady, who would later become his close friends and collaborators.
CAREER AND LITERARY SUCCESS
Kerouac's literary career began in the late 1940s with the publication of his first novel, The Town and the City (1950), which received modest acclaim. However, it was his second novel, On the Road (1957), that catapulted him to fame and established him as a leading figure of the Beat Generation. The novel, based on Kerouac's cross-country adventures with Neal Cassady, became a symbol of the counterculture movement, advocating for personal freedom, spontaneity, and self-discovery.
Throughout the 1950s and 1960s, Kerouac published several more novels, essays, and poems, solidifying his reputation as a groundbreaking and influential author. Despite his literary success, Kerouac struggled with alcoholism and a tumultuous personal life, which ultimately contributed to his early death in 1969.
TOP 10 BOOKS BY JACK KEROUAC
On the Road (1957)
Kerouac's seminal work, this novel follows the adventures of Sal Paradise and Dean Moriarty (based on Kerouac and Neal Cassady) as they embark on a series of cross-country road trips, exploring the American landscape and the counterculture movement.
The Dharma Bums (1958)
A semi-autobiographical novel that chronicles Kerouac's experiences with Buddhism and his friendships with fellow Beat writers, including Gary Snyder and Allen Ginsberg.
Big Sur (1962)
This introspective novel recounts Kerouac's time spent at a remote cabin on the California coast, grappling with alcoholism, fame, and his own demons.
Desolation Angels (1965)
A continuation of The Dharma Bums, this novel explores Kerouac's life after his sudden fame, his experiences as a fire lookout in the Pacific Northwest, and his disillusionment with the Beat movement.
The Subterraneans (1958)
A short novel set in San Francisco that delves into the underground world of the Beats and the relationship between Kerouac's fictional alter ego, Leo Percepied, and a young African-American woman named Mardou Fox.
Doctor Sax (1959)
A blend of autobiography and fantasy, this novel tells the story of a young Jack Kerouac and his encounters with the enigmatic Doctor Sax, a shadowy figure who battles evil forces in the streets of Lowell, Massachusetts.
Visions of Cody (1972)
An experimental novel that presents an alternative version of On the Road, featuring a series of interconnected vignettes and impressions of Neal Cassady (renamed Cody Pomeray).
Lonesome Traveler (1960)
A collection of autobiographical short stories that recount Kerouac's travels across America, Mexico, Europe, and North Africa.
Mexico City Blues (1959)
A book of poetry composed of 242 interconnected choruses, which reflect Kerouac's thoughts on jazz, Buddhism, and his own life experiences.
Tristessa (1960)
A novella that tells the story of Kerouac's love affair with a Mexican prostitute and drug addict named Tristessa, offering a glimpse into the darker side of his time in Mexico City.
INTERESTING FACTS
Kerouac typed the original manuscript of On the Road on a single 120-foot-long scroll in just three weeks, fueled by coffee and Benzedrine.
The term Beat Generation was coined by Kerouac, who initially used it to describe the downtrodden and weary state of his generation after World War II. Later, the term took on broader implications, encompassing the counterculture movement and its rejection of conventional societal norms.
Kerouac was a prolific writer, leaving behind a vast archive of unpublished material, including novels, poetry, and journals, some of which have been posthumously published.
Kerouac's writing style, dubbed spontaneous prose, was heavily influenced by jazz music, particularly the improvisational nature of bebop.
Despite his associations with the counterculture movement, Kerouac was politically conservative and held anti-communist views.
AWARDS AND HONORS
Though Jack Kerouac did not receive many awards during his lifetime, his work has been recognized and celebrated posthumously. Some of the honors bestowed upon him include:
The Jack Kerouac Literary Festival, held annually in his hometown of Lowell, Massachusetts, celebrates his life, work, and influence on the literary world.
In 2007, the United States Postal Service issued a commemorative postage stamp featuring Kerouac's portrait, honoring his contributions to American literature.
A street in the North Beach neighborhood of San Francisco, where Kerouac spent much of his time, has been renamed Jack Kerouac Alley in his honor.
Kerouac's birthplace in Lowell, Massachusetts, has been preserved and turned into a museum called The Jack Kerouac Commemorative, which features exhibits and artifacts related to his life and work.
The Lowell Celebrates Kerouac! Committee has been organizing literary and cultural events since 1988 to honor Kerouac's contributions to literature and his connection to the city.
Jack Kerouac's influence on modern literature, popular culture, and the counterculture movement cannot be overstated. His groundbreaking works continue to resonate with readers, capturing the essence of a restless generation in search of meaning, freedom, and self-discovery. Kerouac's legacy endures, inspiring new generations of writers and artists to push the boundaries of conventional storytelling and explore the depths of the human experience.
DEATH AND LEGACY
Jack Kerouac died on October 21, 1969, at the age of 47, from internal bleeding caused by cirrhosis of the liver, a result of his long battle with alcoholism. His untimely death marked the end of an era for the Beat Generation and its literary icons.
Kerouac's legacy has continued to grow in the decades since his death, with his works remaining popular among readers and inspiring countless writers, musicians, and artists. As a leading figure of the Beat Generation, Kerouac's influence can still be felt today in contemporary literature, music, and popular culture, with his novels serving as enduring testaments to his unique voice and the spirit of his time.
---