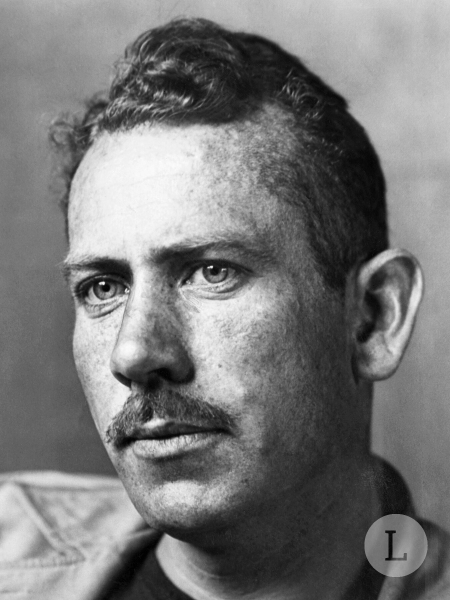 born: FEBRUARY 27, 1902
died: DECEMBER 20, 1968
nationality: AMERICAN
movement: SOCIAL REALISM, NATURALISM
John Steinbeck, born on February 27, 1902, in Salinas, California, was an American author and Nobel laureate renowned for his realistic and imaginative writings that combined humor and social perception. His works often reflected his experiences growing up in California and the social issues faced by working-class people. In this comprehensive article, we will delve into the life of John Steinbeck, explore his most popular works, and reflect on his enduring literary legacy.
EARLY LIFE AND EDUCATION
John Ernst Steinbeck Jr. was born to John Ernst Steinbeck, a manager of a flour mill, and Olive Hamilton, a former schoolteacher. Growing up in a rural environment, Steinbeck developed a love for nature and the landscape of California.
Steinbeck attended Salinas High School, where he began to write for the school newspaper. After graduating, he enrolled at Stanford University to study English literature but never completed his degree. He left Stanford in 1925 and moved to New York City to pursue a writing career.
CAREER AND LITERARY SUCCESS
Steinbeck began his literary career as a freelance writer and eventually found work as a construction laborer and caretaker. His first novel, Cup of Gold (1929), received little attention, but Steinbeck continued to write, gaining critical acclaim with Tortilla Flat (1935).
His literary success grew with novels such as Of Mice and Men (1937) and The Grapes of Wrath (1939), which won the Pulitzer Prize for Fiction in 1940. In 1962, Steinbeck was awarded the Nobel Prize in Literature for his realistic and imaginative writings, combining humor and social perception.
TOP 10 BOOKS BY JOHN STEINBECK
Cup of Gold (1929)
Steinbeck's first novel is a historical fiction that recounts the adventures of the pirate Henry Morgan and his quest for the mythical treasure of the cup of gold.
Tortilla Flat (1935)
A humorous novel set in Monterey, California, Tortilla Flat follows a group of friends as they navigate life, love, and camaraderie in their impoverished community.
In Dubious Battle (1936)
A politically charged novel, In Dubious Battle tells the story of a young man who becomes involved in a labor strike and the resulting conflicts between workers and their employers.
This novella explores the friendship between two displaced migrant workers, George and Lennie, as they search for employment and stability during the Great Depression.
The Grapes of Wrath (1939)
A Pulitzer Prize-winning novel, The Grapes of Wrath follows the Joad family as they are forced to leave their Oklahoma farm and embark on a journey to California in search of a better life during the Great Depression.
Cannery Row (1945)
Set in Monterey, California, Cannery Row focuses on the lives of a group of colorful characters living in a sardine canning district, exploring themes of community and resilience.
East of Eden (1952)
A multi-generational epic, East of Eden examines the complexities of family relationships and the human struggle between good and evil, set against the backdrop of the Salinas Valley in California.
The Winter of Our Discontent (1961)
This novel follows Ethan Allen Hawley, a former member of an aristocratic family, as he grapples with moral dilemmas and the pursuit of success in a small New England town.
Travels with Charley: In Search of America (1962)
A travelogue that documents Steinbeck's road trip across America with his French poodle, Charley, as he reflects on the changing American landscape and culture.
America and Americans (1966)
A collection of Steinbeck's essays and photographs that provide an insightful exploration of American life, values, and identity.
INTERESTING FACTS
Steinbeck was a war correspondent during World War II, covering the conflict for the New York Herald Tribune.
He was a close friend of marine biologist Ed Ricketts, who inspired several of Steinbeck's characters and contributed to his interest in ecology.
Steinbeck received the Presidential Medal of Freedom from President Lyndon B. Johnson in 1964.
His novel The Grapes of Wrath was banned and burned in several locations due to its controversial content and portrayal of social issues.
Steinbeck was married three times and had two sons, Thomas and John IV.
DEATH AND LEGACY
John Steinbeck passed away on December 20, 1968, in New York City from heart disease. He left behind a literary legacy that continues to captivate readers and inspire generations of writers. Steinbeck's novels, characterized by their poignant portrayals of the human condition, have been adapted into numerous films, stage productions, and television programs.
His exploration of social issues, combined with his vivid descriptions of the American landscape, make Steinbeck's works an enduring part of American literature. Through his stories, he immortalized the struggles and triumphs of ordinary people, ensuring that their voices would not be forgotten.
A LITERARY GIANT WHOSE LEGACY CONTINUES TO INSPIRE
In conclusion, John Steinbeck's literary contributions have left an indelible mark on American literature and continue to captivate audiences around the world. His exploration of human nature, social issues, and the American experience have made him a literary icon whose works continue to be read, studied, and cherished by countless readers. Steinbeck's legacy as a master storyteller and compassionate observer of the human condition ensures his place as one of the most influential authors in the English-speaking world.
---