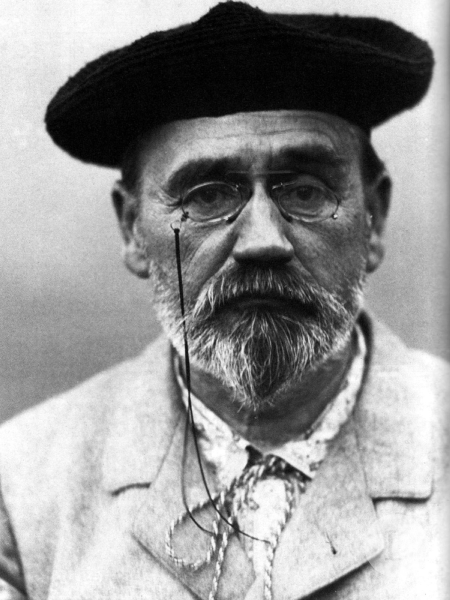 born: APRIL 2, 1840
died: SEPTEMBER 29, 1902
nationality: FRENCH
movement: NATURALISM
Émile Zola (1840-1902) was a French novelist, playwright, and journalist, recognized as a leading figure in the literary school of naturalism. His works often focused on the darker aspects of society, examining themes such as poverty, alcoholism, and political corruption. Zola's most famous work is his 20-volume series "Les Rougon-Macquart," which examines the lives of two branches of a fictional French family during the Second French Empire.
EARLY LIFE AND EDUCATION
Émile Édouard Charles Antoine Zola was born on April 2, 1840, in Paris, France. His father, Francesco Zola, was an Italian engineer, while his mother, Émilie Aubert, was a French native. The family moved to Aix-en-Provence when Zola was a young child, where his father worked on a canal project. Unfortunately, his father passed away when Zola was only seven, leaving the family in financial difficulty.
Despite these challenges, Zola attended the Lycée Saint-Louis in Paris, where he studied literature and developed a passion for writing. He went on to work as a clerk in a publishing company and began writing articles and stories for various newspapers and magazines.
CAREER AND LITERARY SUCCESS
Zola's career as a novelist began with the publication of Contes à Ninon (1864), a collection of short stories. He continued to write novels, often focusing on the harsh realities of life for the working class in France. His major work, the 20-volume series Les Rougon-Macquart, earned him widespread recognition and solidified his place in literary history.
TOP 10 BOOKS BY ÉMILE ZOLA
Germinal (1885)
This novel explores the plight of coal miners in northern France, focusing on themes of labor unrest and social injustice.
Nana (1880)
A story of a young woman's rise and fall as a courtesan in Paris during the Second French Empire.
L'Assommoir (1877)
This work depicts the devastating effects of alcoholism and poverty on a working-class family in Paris.
Thérèse Raquin (1867)
A dark tale of murder, adultery, and the psychological torment that follows.
La Bête Humaine (1890)
A psychological thriller exploring the darker aspects of human nature through the story of a train engineer.
Au Bonheur des Dames (1883)
A novel examining the rise of the modern department store and its impact on small businesses and workers.
Pot-Bouille (1882)
A satirical look at the lives of the bourgeoisie living in a Parisian apartment building.
La Terre (1887)
A novel set in rural France that explores the hardships faced by peasants and the struggle for land ownership.
La Débâcle (1892)
A historical novel focusing on the Franco-Prussian War and its aftermath.
La Curée (1871)
A story of greed, ambition, and corruption set during the period of rapid urban development in Paris.
INTERESTING FACTS
Zola was a prominent advocate for Alfred Dreyfus, a Jewish French army officer who was falsely accused of treason. His open letter, J'accuse…! (1898), accused the French government and military of anti-Semitism and injustice, ultimately leading to Dreyfus's exoneration.
2. Zola's works, particularly his Les Rougon-Macquart series, often drew upon scientific theories of the time, such as heredity and social conditioning.
In 1862, Zola became close friends with the famous painter Édouard Manet and later became a strong supporter of the Impressionist movement.
Zola was an avid photographer and left behind thousands of photographs that provide insight into his personal life and the world around him.
AWARDS AND HONORS
Although Zola faced controversy throughout his career, his literary achievements did not go unrecognized. In 1888, he was elected as a member of the prestigious Académie Goncourt, and later, in 1900, he received the Legion of Honour, one of France's highest awards. Today, numerous schools, streets, and public spaces across France bear his name in tribute to his lasting impact on literature and society.
DEATH AND LEGACY
Émile Zola passed away on September 29, 1902, due to carbon monoxide poisoning caused by a blocked chimney. His death remains shrouded in mystery, as some believe it was an accident, while others suggest it was murder by his political enemies.
Zola's legacy is vast, as his works not only inspired the Naturalist movement in literature but also contributed to significant social and political reforms in France. His commitment to social justice and his fearless exploration of controversial topics made him a key figure in French literary history.
---